Does TV Come With Wall Mount? (Beginners Guide)
Last Updated on October 27th, 2022 - By Steve
Wall-mounting TVs are on the rise in households today. People now prefer mounting their TVs on a wall because of its advantages over using a stand. 
Almost every new model of TV is now wall-mounting-compatible.
However, since TVs and wall mounts go in handy, you may wonder whether a TV comes packaged with a wall mount. 
Not all TVs come with a wall mount. Some do not come with wall mounts, while others come with low-profile mounts. Therefore, you will have to purchase a good wall mount differently. 
In this article, I'll highlight everything you need to know about wall mounting your Samsung TV,  including the pros and cons.  
Does Samsung TV Come With Wall Mount?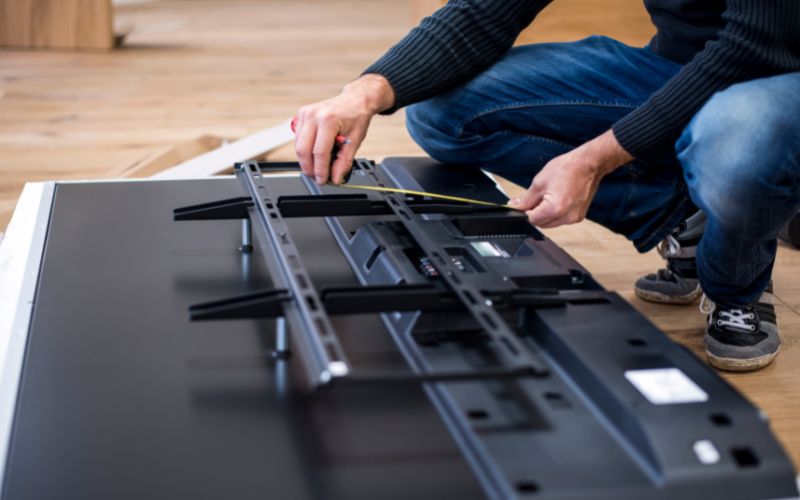 Yes, Samsung's brand of TVs is suitable for wall mounting, so they come with wall mounts. 
Manufacturers design most flat-screen televisions in a way a wall mount is possible. Samsung televisions fall in this category. 
These TVs are light and have holes at the back where the brackets should fit.
Samsung Televisions are VESA-compatible which means they are suitable for wall mounting with a VESA-compliant wall mounting system. 
Samsung designs its televisions to VESA standards. You should ensure that the wall mount you purchase for your Samsung Tv is also compliant or a fit. 
All Samsung TVs also have various custom-made wall mounts designed specifically for the Samsung Tv model you own, but you can also use universal wall mounting options.
When using the universal wall mounting options, ensure the mounting system you choose for your Tv model suits your Samsung Tv's specific needs before purchasing and installing them.
Below are factors to consider before wall mounting your Samsung TV;
Structural Integrity: Structural inter duty has to do with your TV's weight and whether the texture of the wall you choose for mounting supports it.
Compatible Wall Mounts: Not all wall mounts go with all Samsung TVs, so consider buying a wall mount most suitable for your TV type.
TV Mounting Location: Not just anywhere is suitable for mounting your TV, so making The right choice of positioning for your TV can go a long way too.
Viewing Distance: Not just any viewing distance is okay for a TV mount, so calculate your viewing distance when choosing.
Can You Wall Mount All TV?
Wall mounting is not possible with all Tvs, but most recent Tv models come with wall mounting options and provisions. 
Wall mounting your Tv gives your home a more modern appearance and design.
It also helps save space and protect one's gadgets from dust, moisture, and dirt. 
As a result, the most recent Tv's come with wall mount options as buyers now prefer purchasing a Tv that they can mount on the wall.
These factors have favored wall-mounting TVs. Even so, some TVs do not have wall mounting options or provisions as they do not have VESA mounting options at the back and mounting holes.
But for TVs with wall mounting options, it is easy to fit nearly any TV on any mount because most TVs and mounts conform to the Video Electronic Stands Association (VESA).
Conforming to VESA means most Television makers standardize their TVs to fit the main wall mount brand in the market. 
Thus, whatever TV manufacturer you get a modern Tv from, they can be wall mounted.
Your wall mount doesn't have to be the same brand as your TV. So, it doesn't matter If you have Samsung, LG, Sony, or any other manufacturer. You can get a mount that fits.
Even so, not all wall mounts will be compatible with every TV, so a mount has to fit the hole pattern at the back of your Tv for it to work. 
You must take note of your TV's hole pattern before you shop for its wall mount.
Your Tv manual is a helpful guide to consult to confirm whether you can wall-mount your TV. 
For TVs, their manufacturers do not state this in the guide. You can check the back of the TV for mounting holes.
This step is necessary to know if you can wall mount your television. Hence, you can wall mount some televisions while you cannot wall mount other televisions.
You should know that you can not wall mount just any television.
Below is a table showing the advantages and disadvantages of wall mounting your Tv.
| Advantages  | Disadvantages |
| --- | --- |
| A wall-mount TV saves space. | It is difficult to access ports at the back of the television. |
| A wall-mount TV avoids the accumulation of dirt on surfaces. | Poor installation could lead to damage. |
| It gives you the perfect viewing angles. | The cost of mounting a television alone is a disadvantage. |
Do I Get a Free Wall Mount Service After Purchasing Tv?
Yes. Some Tv manufacturers make installing and mounting your Tv a free service as a courtesy for purchase.
But you don't always get a free Tv wall mount service after the purchase.
For TV makers that offer free wall mount services, all you need to do is wait for their technicians to come and install it for you. You can do this a few days after the company delivers your TV.
At purchase, select a wall mount compatible with your TV type, select a day for installation, and technicians will come to get your TV wall mount done.
On the other hand, some Tv sellers do not offer this service. Here, you'll need to mount the Tv yourself or shoulder the installation cost.
While manufacturers do not offer these services, you must bring in someone who can install your Tv to the wall excellently because a simple mistake can be costly.  
Professionals best handle Television wall mounting. Do not trust just anybody with the job.
You also can mount your TV yourself if you can. It would be best if you took precautions, though.
It would be best if you did not take Mounting your TV on a wall prone as damages may occur in a case of a fall off. 
Even if you do not get a free wall mount service after purchase, you can get it done at a negligible cost. All you should do is be careful to contact the right person.
Conclusion
Most TVs come with a wall mount. But even if yours doesn't come with a wall mount, the wall mount doesn't have to be the same brand as your TV. 
As such, you can get a wall mount yourself because manufacturers make all modern TVs in a way that wall mounting works on them as they conform to VESA.