4 Ways To Know If Netflix is Playing 4k!
Binging on Netflix series and movies is a great way to pass the time. But you wouldn't want to strain your eyes when watching on a small device.
Resultantly, you'll crave a bigger display and better resolution to perfect your groove when it's time to Netflix and chill.
Therefore, the desire for ultimate comfort causes you to wonder if Netflix utilizes 4k display resolution, the perfect digital imagery.
Though Netflix plays in 4k Ultra HD, it isn't accessible to everyone. To know if your Netflix is playing in 4k, check your device, Internet connection, streaming quality, and Netflix plan. You can adjust or change any of the above options to access this high imagery display resolution if it isn't.
Here, you'll discover how to decipher Netflix's display resolution before you binge and more.
That said, below are four (4) ways to check if your Netflix is playing 4k;
#1. Check Your Device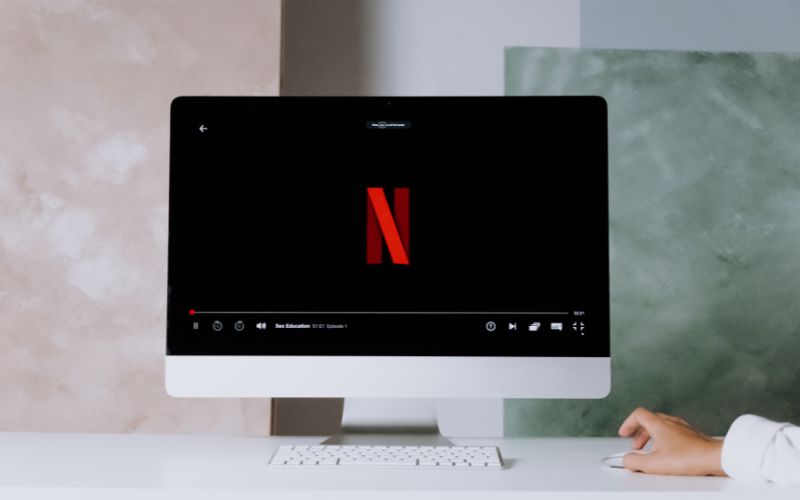 Your device is the first determinant as to whether Netflix can play 4k.
If your device cannot run the most recent firmware, 4k Ultra HD resolution won't function properly.
Your device compatibility is of utmost importance. To discover the compatibility of your device, please visit the Netflix help center and check the Ultra HD section.
Some of the compatible devices listed in the help center are;
1st and 2nd generation 4k Apple TV
Similarly, you can contact the producers of your device to discover if it supports 4k UHD viewing.
However, the 4k display is available on all 60 Hz or 4k TVs, Windows 10 & 11, Microsoft Edge, and Safari for macOS 11.0 alongside newer versions.
#2. Confirm Internet Stability
The second way to know if Netflix is playing 4k is to check your internet connection.
Netflix requires a steady speed and stable connectivity to stream this high resolution.
According to Netflix's internet speed recommendations, the lowest internet speed for a 4k display is 15 megabits per second. It's even better if the speed of your internet connection is higher.
If you're uncertain about your internet speed rate, there's an easy way to check on the Netflix app.
Below are the steps for checking your connection speed.
Select "get help" or "settings."
Click on "check my network."
The app will then verify and display your connection speed. You can adjust the bandwidth usage to enhance your internet connection.
However, if you're experiencing connectivity problems, you should contact your service provider for help.
#3. Verify Streaming Quality
The third way to know if Netflix will play in 4k UHD is by checking your video streaming quality.
It is compulsory for your streaming quality to either be on auto or high before you can binge-watch in UHD.
However, it's necessary to note that video quality affects data consumption. Thus, the various streaming qualities have different hourly data usage rates.
Below are the streaming quality options for web browsers and their descriptions.
| Streaming Option | Description |
| --- | --- |
| Low | Basic quality that consumes 0.3 GB hourly. |
| Medium | Standard quality, which requires 0.7 GB hourly. |
| High | The best video quality uses between 1-7 GB hourly. |
| Auto | Adjusts to give the highest quality your internet speed can carry. |
The video quality options differ when using a mobile device. Check the table below to see.
| Streaming Option | Description |
| --- | --- |
| Auto | Auto equates data usage to video quality with a 4 GB per hour average consumption. |
| WiFi | A WiFi connection enables better streaming. |
| Save Data | Consumes 1 GB in 6 hours. |
| Maximum Data | Premium quality for your device and video, consuming an average of 1GB in 20 minutes. |
#4. Check Your Subscription Package
Finally, your Netflix subscription package will determine if you can access 4k viewing. UHD is limited to the Netflix premium-level plan.
As a result, the basic and standard subscription packages cannot support a 4k resolution display.
Luckily, the premium plan is affordable. It costs only $19.99. However, there may be extra fees for tax depending on your residential region.
If you live outside the United States, view Netflix's plans and pricing. Remember to select your present location to get the price for your region.
To know if you can watch Netflix in UHD, check your device, Internet connection, streaming quality, and subscription package.
Are Ultra HD and 4k the Same?
4k digital imagery resolution is a part of Ultra High Definition television display in the consumer media industry.
4K UHD is a digital resolution of 3840 × 2160 with a 16:9 aspect ratio displaying 8,294,400 pixels.
Regarding television, 4k Ultra HD is the most prevalent display resolution. Therefore, 4k and Ultra HD can mean the same thing.
However, there are limitations to using both terms interchangeably. The reason is that 4k and UHD are only considered the same in the display market.
4k is a generic term that connotes any display resolution having about 4000 pixels. As such, the ratio of 4k display resolution isn't static.
The ratio changes when you cross over to other markets, such as the DCI Digital Cinema System Specification.
For example, let's consider the DCI 4k full frame. Here, 4k signifies a digital display resolution of 4096 × 2160 with an aspect ratio of 256∶135.
This resolution format gives a bigger horizontal projection of movies and motion pictures.
4k DCI easily projects films created in cinema scope and flat display resolutions of 4096 × 1716 and 3996 × 2160.
The Cinemascope DCI 4k has a resolution of 4096 × 1716, while the DCI 4k flat is 3996 × 2160.
There are many other variants of 4k resolution display with a wide range of aspect ratios suitable for multiple purposes.
So, you should note that 4k is a generic term with various disparities.
But, the 4k resolution, which leads the consumer media, is the same as Ultra High Definition's standard. Hence, it's also called 4k UHD.
Below is a table containing differences between 4k UHD and 4k DCI.
| 4k UHD (3840 × 2160) | 4k DCI (4096 × 2160) |
| --- | --- |
| It's the standard for the consumer media and display industry. | Its use is prevalent in digital cinema production. |
| ITU-R Recommendation BT.2020 defines its resolution format. | SMPTE 428-1 states its various resolution formats. |
| This resolution is a more compact fit. | This resolution has a more horizontal aspect ratio. It's wider than UHD 4k with 256 pixels. |
| It's great for YouTube and Tv. | It produces extraordinary results when used in movie theaters. |
How to Know What Quality Netflix is Streaming on Your Tv
Only a 60 Hz or 4k Tv can stream Netflix for your viewing pleasure.
However, even with a high-resolution tv, the quality of what you're watching can be compromised.
So, to discover what quality Netflix is streaming on your tv, first check if you're watching a 4k movie or show.
The process is easy. Simply use your smart tv remote to type in "UHD or 4k" into the Netflix search bar.
This action will display all the UHD series and shows on your plan so you can navigate and select them.
Another way to detect streaming quality on your tv is to press the F4 button on your remote control.
The resolution will display on the top left corner of your television screen.
However, if you're already playing a movie, simply check if it carries the UHD logo. Seeing this logo assures you that you're watching the best quality.
If the logo isn't present, look beneath the title to find Ultra HD 4k or Dolby Vision, which indicates a 4k resolution display. If what you see is HDR, your streaming quality is poor.
The absence of the logo also indicates that the series or show you're watching is streaming in low quality. Additionally, a blurry or fuzzy display signifies low-quality streaming.
How to Change the Quality of Netflix Streaming on Your TV?
If the streaming quality doesn't satisfy you, you can change it via your mobile device.
Here are the steps to do this.
Login to Netflix and select "account and help."
When it loads, locate the "watching on tv" option and click on it.
Select "manage video quality."
A pop-up will display 3 video setting options.
Review their info and select which suits you best.
You should also ensure that your 4k tv is plugged into an HDMI port that is HDCP 2.2 compliant.
You'll get a nice streaming quality if you have the necessary criteria and the right settings.
How to Watch Netflix 4k on PC?
Windows 10 and 11 are the only options that enable subscribers to watch Netflix 4k on PC.
It's optimal to fully update your windows package before logging onto Netflix for the best result.
However, it's impossible to stream without the Netflix windows app or the edge browser, so installing one of them is necessary.
Other browsers like Chrome and Firefox won't work because they only support 720p.
Also, you'll need to install an HEVC video extension. While some Microsoft HEVC extensions are free, others are paid.
As encoding support, you'll require a 7th gen intel processor or a later version; else, Microsoft Edge may not work.
However, a sleek alternative is an Nvidia 10-series graphics card or an AMD Radeon RX 400 series. 
Furthermore, it's quite obvious that you have to be on the premium Netflix plan with stable internet connectivity and high streaming quality.
With these requirements in place, you must grab a can of juice and a packet of popcorn to munch on as you watch.
Conclusion
Watching Netflix HD is great, but 4k UHD is mind-blowing. Other than TV and mobile devices, you can access 4k UHD using your PC.
You'll see a logo below the title when a movie or show plays in UHD.
However, certain factors must be in place before you can watch in 4k. These are your Netflix plan, video quality, Internet connection, and device.